Dealers should focus on the individual requirements of prospective customers and promote unique features, advises Urban Cedar Managing Director Antony Perry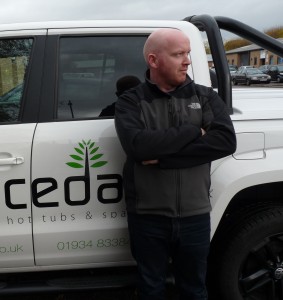 Year-on-year, despite the recession, we are exceeding sales because we offer a bespoke service with top quality designs created and made in Britain. Our Bristol-based company is ten years old now and has a turnover of over £1million, thanks to our unique features and service.
Delivering nationwide, we specialise in top-end, all-cedar aromatic hot tubs. Our other models are clad in highly insulating, weatherproof, and high-specification cedar cladding. The beautiful natural exterior is then combined with deep, easy- maintenance polymer interiors. We have built up a niche in the market because people come to us for something luxurious looking, long-lasting and well within their budget.
One of our main advantages is that we produce our own value-for-money range of hot tubs, here on site, in the UK. This gives us total control over model design, manufacture and at what price we can sell. We operate very differently to the general hot tub retailing business in the UK.
While dealing with various hot tub manufacturers worldwide, we maintain a careful control over every stage of design and manufacture. We have diverged from offering all-singing and dancing hot tubs from manufacturers that install music, water fountains and televisions. Our aim is simplicity, quality, relaxation and long-term reliability.
There are a lot of poorly manufactured hot tubs sold in the UK via websites without any concern for the customer and how they will safely use them. It is very frustrating, because this can tarnish the industry's reputation and hinder the growth in quality hot tub sales. These companies are never going to generate those important additional customers through referrals.
Thankfully, we don't have the hassle of dealing with many of the negative industry issues that seem to plague a lot of other dealerships. We feel a responsibility to our customers. We find out what their particular hot tub needs are and then make these requirements our total priority. This means we gain the confidence of our customers.
No matter how good your website is, word of mouth is vital. If you deliver a top quality product at the right price with fantastic after-sales service you will be successful.
Consumers in today's hot tub market are savvy. From our experience, potential customers visiting our showroom have already done their homework and come
to us looking for something different from the traditional hot tub. They've come to the conclusion that our models and the very particular way we produce hot tubs will suit their landscaping, needs and budget.
We have seen people walk in here and have that 'Eureka!' moment because they've done a lot of research online and at outlets and just not seen what works for them aesthetically, practically and price-wise. Our tubs simply look and smell beautiful as well as being super easy to maintain, economical and quiet. We provide a very personal service to find the best solution for their particular needs at the right price.
Right from the start we are absolutely focused on the unique selling points of our brand and ensure it meets an individual's own requirements – whether they want a model craned up to the roof of a penthouse flat in London, a model for a tiny urban courtyard garden or a family and friends-size version in a rural home.
Our policy is to strictly utilise quality American components in all our hot tub models. We want to assure prospective customers they will have peace of mind using our models, and give an assurance they have been built to our rigorous standards without worrying about anything breaking down.
Through this we have achieved long- term success and repeat sales because our products are reliable and trusted. A policy of ensuring quality means satisfied customers will recommend your services and products to their family and friends, which in turn ensures your long-term growth and prosperity.