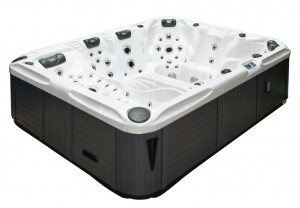 Passion Spas gave USA exhibition debuts to two new models the Bliss and the Ecstatic, which includes a 'Levitation Bed', during the International Pool, Spa and Patio Expo in Las Vegas.
The Bliss, which comes in at 88" x 39" x 32" and has a filled weight of 1,208lbs, has Aqua Rolling Massage technology and has been designed as a two- person spa that is being promoted as being ideal for placement where space is at a premium. It has 20 All-Active hydrotherapy jets with stainless steel finish, a Balboa control and heating system, StarBrite LED underwater lighting plus high-density urethane insulation.
In contrast, the Ecstatic comes in at 120" x 90" x 64" and is a large seven-person model with a filled weight of 4,740lbs, which has been designed with five seats and two lounge seats. A host of features include multiple pumps, LED lighting, aromatherapy, audio system with iPod docking station and two built-in speakers, and the proprietary Cascade Creek waterfall. It has a total of 120 jets, 20 air jets, 100 All-Active hydrotherapy jets, and a Balboa heating and control system.