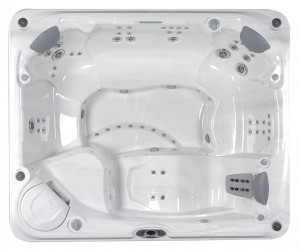 HotSpring has achieved an immediate showroom debut impact with the introduction of the new Gleam in the UK during the second half of the year.
The Watkins Manufacturing company's decision to provide an eight-seater model as the latest 'family choice' addition to the Limelight range in the form of the Gleam, which comes in at 2.31m x 2.79m x 0.97m and has a whopping filled weight of 3,292kg, has been vindicated after proving to be an instant retailing hit as soon as it arrived in showrooms, despite its high-ticket value.
HotSpring retailing veteran Huw Chivers of Hot Tub Barn has witnessed the success of the Gleam, which has a total of 71 jets plus a specially designed bench seat that allows couples to relax together, for himself while his dealership's showrooms have been reaping the rewards of bumper sales during the summer.
"This is a big hot tub with a £17,000 price tag but it has been a run away success," Huw told HTR; "It's really selling well. It needs more than two people to deliver it but it's taken off in our area."