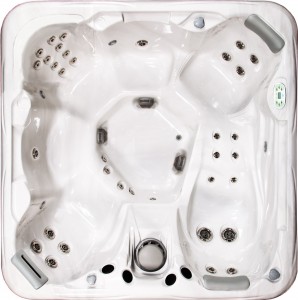 Artesian Spas has launched a limited edition 735L SE adapted from current South Seas designs.
Coming in at 214 x 214 x 91cm, the six-seater 735L SE has 35 jets and two therapy pumps, to deliver intense hydrotherapy, and LED Multicolour Lighting with favourite colour or slow fade options. The design also features a lounge seat, Pillowfall to target neck and shoulders, as well as powerful shoulder, back and calf jets in the six seating options.
The 735 SE comes equipped with full foam insulation and ozone as standard and the option of a marine-grade MP3 stereo weighs in with four-in-spa speakers and powerful subwoofer.
A 735B SE version is also available, with no lounger, which is the open seater option with foot dome and there are 20 additional shell colours to choose from, plus five extra cabinet colours.