Sundance Spas has some of the world's top selling hot tubs in its stable. HTR investigates how the manufacturer has maintained its innovative pedigree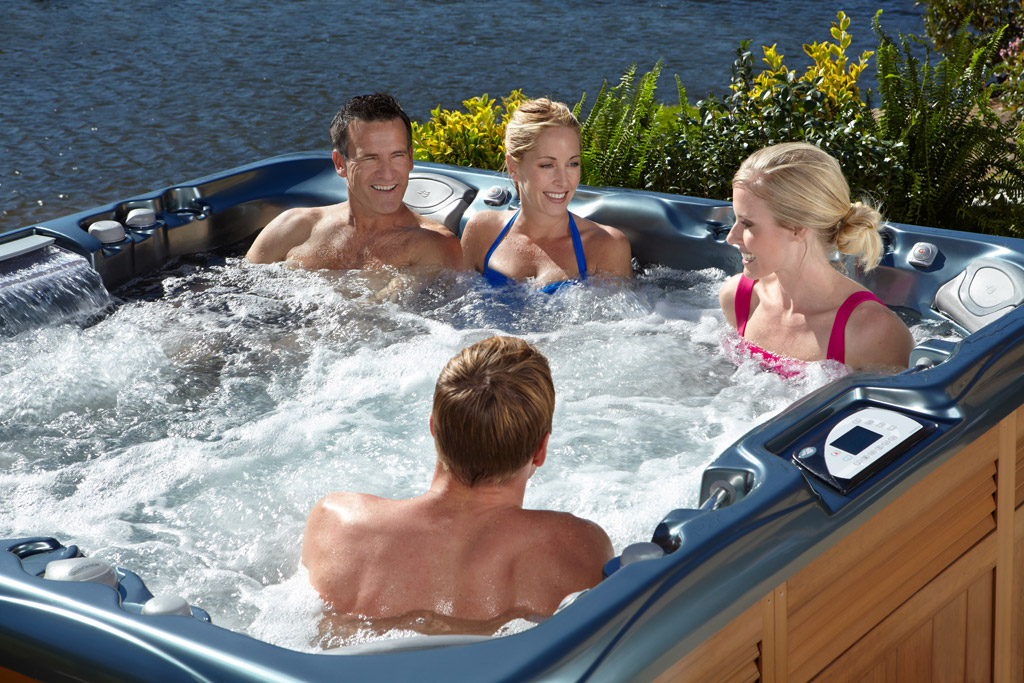 With an innovative philosophy spanning more than three decades, Sundance Spas has built up an iconic manufacturing status that was spawned from the thriving entrepreneurial spirit of the California hot tub community in the 1970s.
From its humble west coast family business origins, the Sundance Spas brand has since amassed a multitude of awards and forged a formidable alliance with the founding 'godfathers' of the portable hydrotherapy industry to achieve global success with the world's top selling hot tub in its impressive design portfolio.
Having built up a legion of satisfied customers throughout the USA, an additional generation of Sundance Spas advocates in Europe and around the world will now testify to the durability and cutting-edge technology of their hot tubs. This, though, is no fluke of fortune or chance opportunity.
The magic formula has been the manufacturer's dedication to innovative quality production, as well as customer requirements, safety and satisfaction that has helped it to achieve remarkable success. This has resulted in the brand generating over 750 global retail locations in more than 60 countries and receiving a host of industry awards and accolades, including the John Holcumb Silver Award for new technology.
Founding family
When Ron Clark completed a stint in the army as a deep-sea diver and decided to join his father, Jim, and younger brother, Charles, in their California-based plastics manufacturing company it set the wheels in motion for the eventual future development of the Sundance Spas brand, which was created in 1979.
The family-run business, launched from a garage in Costa Mesa, was in decline when Ron came on board and after his father resigned he became a partner with his brother Charles. This joint agreement did not last, though, and just a year later Ron bought out his brother who continued to work at the company. Ron was then inspired to develop portable spas, while producing plastics for other companies, after realising that there was an opportunity to help advance the spa industry beyond its traditional 'hole in the ground' status.
Crude wooden hot tubs were being constructed from old wine vats in California during the early 1970s, as a socialising alternative to the in-ground versions that were time-consuming to install, before the high-quality shell portable spas became the norm in the USA and dominated the international market.
"At the time, the industry was not a portable spa industry," revealed Ron; "Back then you dug a hole and put the spa in the ground. We moved the industry into the appliance-in-a- box type of thing."
Production focus
With around three years of combining plastics and the fledgling portable spa duties under his belt, the Sundance Spas brand was born. Ron significantly set his sights on concentrating on spa production when he brought in army acquaintance Galvin Bartlett, who he had been a deep-sea diver with, and Charlie Johnson who had been an early spa customer.
During the initial years, Sundance Spas steadily increased sales volume and then outgrew its small manufacturing facility in Costa Mesa. For three years the company then operated from a warehouse in Anaheim until the decision was taken in the early 1980s to relocate to Chino.
By 1988 spa sales had hit 280,000 units and within less than two decades of its formation, Sundance Spas had grown to employ a workforce of around 400 people. The manufacturer was also achieving annual revenue of $70million as it continued to expand rapidly from the modern Chino headquarters and embrace international demand from more than 40 countries across the globe.
From his original concept of producing a portable spa, Ron and his team were rewarded for embracing new technology and their efforts for building a reputation as innovators in the industry.
"Sundance was instrumental in bringing the spa industry into the electronic age with the microprocessor-based spa-control circuitry," revealed Ron.
Design influence
Once production was transformed into a sophisticated manufacturing process, Sundance Spas was able to lay the foundations for its enviable pedigree by taking on board valuable user feedback. The manufacturer would then encourage a dedicated team of designers to be inspired by the ideas suggested by customers.
"Our customers give us some of our best ideas," revealed Ron Clark as the Chino manufacturing facility went from strength to strength; "And our employees are the ones who make it work. I encourage that creativity."
Keen to embrace the potential of the West European market in the early 1990s, Sundance Spas also designed models that would meet international standards ahead of developing dealer networks on other shores, including here in the UK.
"We made a spa and sold it in Switzerland," revealed Charlie Johnson; "We made some mistakes but the customer lived through our ignorance with us. This helped us to learn what was required in a product to be successful in Europe."
Formidable alliance
In 1998 the brand became part of a group of companies owned by U.S. Industries Inc, which at the time had a reported revenue of $2.3billion, when Jacuzzi Inc purchased Sundance Spas from Clark Manufacturing for $31.65million. This resulted in the manufacturer joining the ranks of Ertl toys, Ames garden tools, Lighting Corporation of America, Rexair vacuum cleaners, Garden State Tanning and EJ Footwear in the diversified industrial management corporation's stable of leading companies.
At the time Chairman, President and CEO Roy Jacuzzi welcomed the fact that the alliance would produce a formidable dealer network for the two California-based brands.
"This combination of Jacuzzi and Sundance provides the company with an extensive dealer network and unparalleled product leadership," said Roy Jacuzzi; "We are pleased that Ron Clark, founder of Sundance Spas, will continue to lead the organisation after the acquisition."
Industry leader
Now, as a leading manufacturer in every international market, Sundance Spas proudly declares that it sets the highest standards in the design and development of acrylic spa shells, water purification, heating and programming and control systems, as well as filtration under the strict ISO 9001-2000 certification.
Having embraced the strict manufacturing regulations, and being the first manufacturer in the industry world-wide to receive ISO 9001 Certification, Sundance Spas continues to dominate the international market with the use of cutting-edge technology and is constantly at the forefront of developing features to enhance its models in the 880 Series, 780 Series and 690 Series, as well as the newly-developed Select Series.
The luxury range of 880 models includes the WhatSpa? Magazine Best Buy Award-winning Optima, as well as the Aspen, Maxxus, Cameo, Majesta, Altamar, Marin and Capri, while there are in-ground options of the Optima, Cameo and Marin.
With a ten-year structural warranty, the Optima has become "the best- selling model of any spa from any spa company in the world". It has a host of sophisticated features including a fully adjustable AquaTerrace water feature and SunGlow LED lighting system, plus a large and spacious footwell. Ergonomically-designed seating, which minimises floating; energy- efficiency with EcoWrap and three-layer Rigid Bond Shell; patented hydrotherapy with bearingless Fluidix technology; and pure water management with the Dynamic Flow Pump; along with the unique MicroClean Plus filter, Slipstream Skimmer, SunPurity Mineral and CLEARRAy; have also ensured this top model sets the bench mark in hot tub design that has been rewarded with consistently high sales around the world.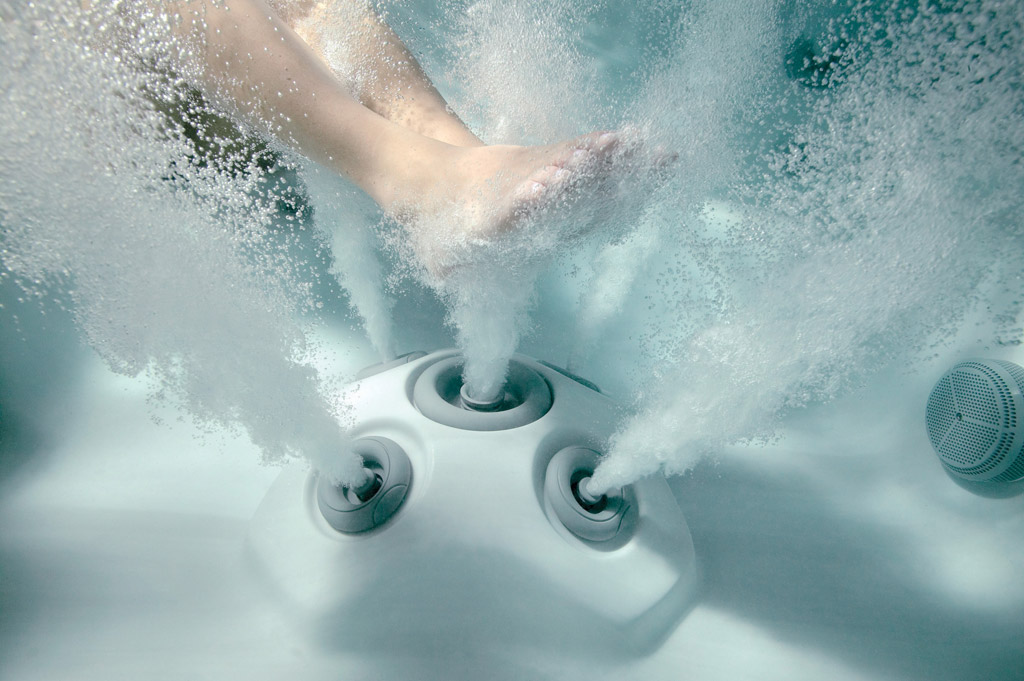 Sundance Spas also highlighted its cutting- edge design credentials by developing the innovative Intelli-Sound system as an option for their 880 series. The technology was introduced to provide superior sound delivery and maximum clarity for customers wanting to listen to their own music choices stored on a one gigabyte internal hard drive.
Mid-range models in the 780 Series include the Chelsee, Hamilton, Certa, Camden, Montclair and Dover. This series has been enhanced to also include contemporary
audio, visual and therapeutic features, such as the SunRay synchronized LED lighting. The SunSurround stereo system, meanwhile, powers four marine-grade speakers along with a booming subwoofer that has been installed deep in the cabinetry by the manufacturer.
"Before we started concepts for this line we sat down and talked to homeowners to find out what they were looking for in a hot tub," revealed Sundance Spas Director of Marketing William Smelley.
"Out of this consumer research, our product development team created a whole new 780 Series equipping these spas with the entertainment and performance features most desired."
Even in its value-priced 680 Series, including the Hartford, Edison, Hawthorn, Peyton, Denali and Tacoma, the manufacturer has delivered a range that has been designed to be option-rich. It was launched to entice people who believe they lack the space or budget to own a hot tub, according to Sundance Spas Vice President of Product Development Erica Moir.
"Exciting entertainment lighting options make the 680 Series the perfect combination of comfort and styling fit for the entry-level buyer," declares Erica; "This line proves that affordable luxury is possible."
Efficiency options
Never wanting to rest on its laurels or previous manufacturing reputation, the Select Series meanwhile has been launched by Sundance Spas to provide the six-seater Constance
and five-seater Victoria models as options for customers wanting models that provide reduced energy consumption, with additional high-end hydro-massage features. The insulation system in the Select Series design process has been built on the success of the Sundance RigidBond construction and full foam insulation, by including an extra thermal layer.
In addition, a newly-introduced SunStrong hot tub cover for the Select Series increases efficiency with the manufacturer's use of ultra-high density foam, while producing superior performance with an exterior that has been produced by utilising the highly durable SunBrella brand material.
The Select Series launch demonstrates that the current design team are following the founding principles of the Sundance Spas production philosophy, having reacted to consumer research that highlighted the growing demand for hot tub designs that would be ultra-efficient.
"According to consumer research, energy- efficiency is an important consideration for hot tub owners and for those in the market," explained Sundance Spas Senior Manager of Product Marketing Larry Ovalle.
"For this reason, Sundance Spas is introducing the most energy-efficient spa designs in its class with these models. We took the spa design one step further with premium features and sophisticated aesthetics."
Industry firsts
Sundance Spas has built a reputation for launching a host of industry firsts that have included the incorporation of recessed jets in the manufacturing process; along with innovative electronic control systems; recessed, moulded pillows; and a UL Listed ozone system.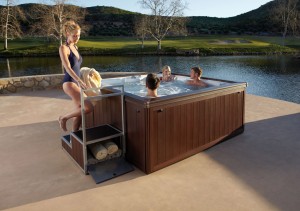 Signalling that it was capable of continuing this trend and leading the industry in the 21st century, the manufacturer was also the first to develop a stereo system with a docking station specifically designed for iPod brand portable media players. The famous line of Fluidix Jets, meanwhile, continues to play a major role in the manufacturing process that heavily concentrates on producing models that ensure top quality hydrotherapy with minimal maintenance.
In 2012 the manufacturer officially launched the exclusive CLEARRAy Water Purification System as standard on all of the latest models to come off the production line, in an effort to ensure up to 50 per cent reduction in sanitising chemical usage.
Following years of laboratory testing and in-field trials, the modern UV-C light technology was introduced to treat 99.9 per cent of waterborne pathogens without chemical, gas or other by-product being added or produced as a result. This has produced the same levels of success that has previously been achieved by hospitals, pharmaceuticals, bottling and beverage companies, industrial and municipal water treatments and aquariums.
Multiple awards
Critical acclaim has been achieved by Sundance Spas throughout its hot tub history as industry experts and trade publications have recognised and rewarded the meticulous application to every aspect of manufacturing production and design.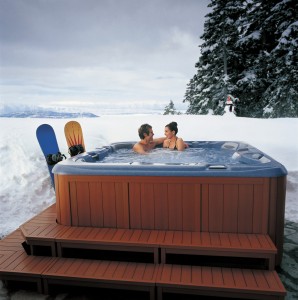 This has seen the brand achieve 'Best Buy' status in the UK in consecutive editions of our sister publication's independent WhatSpa? Best Buy category; as well as Consumer's Digest 'Best Buy' Awards; The Good Housekeeping Seal, SpaSearch certification; Made for iPod certification; as well as the John Holcomb Silver Award for excellence from the Association of Pool and Spa Professionals (APSP).
The first Consumer's Digest Best Buy Award was achieved in 1992 for the top-selling six- seater Cameo and it was recognised again in the 2007 issue in the Premium Spa Class, which was welcomed by Sundance Spas President & CEO Jonathan Clark.
"The Cameo Spa is an exceptionally well- designed and well-built product that homeowners continue to find extremely appealing because of its signature styling and high-end hydrotherapeutic benefits," said Jonathan.
In the latest 2013 edition of WhatSpa? magazine the seven-seater 880 Series Optima has continued the critical acclaim for the manufacturer, after gaining Best Buy recognition in the £12,000 plus category. The Optima was proclaimed as being 'at the forefront of the race for best all seater spa' in the industry-respected independent assessment and its Fluidix bearingless jet technology was declared to be 'unsurpassed in delivering ultimate adjustable hydrotherapeutic massage'. The deep tissue massage delivered by the Accu-ssage therapy seat, meanwhile, was also highlighted as 'second to none'.
Golden distribution
This year the UK's largest independent wet sundance spas leisure company Golden Coast has taken on the mantle of exclusive distributor for Sundance Spas on these shores and is seeking retailers with a proven pedigree to join its growing dealer network.
From its headquarters in Devon, Golden Coast has built up a formidable pedigree for servicing the demand for hot tub and pool related technology and products and reputation for quality service across the wet leisure sector. The family-run company is a SPATEX stalwart and has been an ever- present for many years at the Brighton- hosted exhibition that will be moving to Coventry for its West Midlands debut in February. During the 2014 exhibition, Golden Coast will be displaying hot tub models and will be welcoming existing and prospective Sundance Spas dealers to its product promotion stand to discuss strategies for sales growth.
At this year's SPATEX, the impending announcement of the distribution deal and the exclusive partnership with the manufacturer was an open secret among the trade press and many industry insiders. Behind the scenes Golden Coast was preparing for the impending Sundance Spas announcement, having tipped off HTR's editorial team to the news, which was then heavily promoted to the industry ahead of the busy spring season.
"Sundance Spas decision to award sole distribution rights to Golden Coast is a major compliment and is an endorsement of our own reputation and excellent product and dealer support," said Golden Coast Managing Director Jamie Adams.
"We are committed to providing our dealers with all the materials they require to succeed: from technical training to marketing materials, including individual Sundance micro sites. Further still, we will maintain a comprehensive stock of products and parts for immediate dispatch."
Once SPATEX 2014 comes around, Golden Coast will have had a year to acclimatise to its new distributor status and will be promoting its dealership package opportunities during the exhibition.
"This year we have been bedding in with the Sundance Spas brand and making sure we have everything in place to move forward in the future as a distributor," said Jamie. "Our view is that it's going to be a marathon, not a sprint, to achieve success with high-calibre retailers.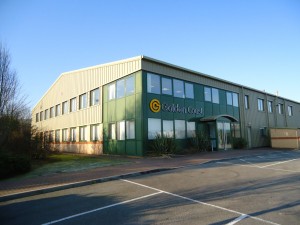 "From the feedback we have already received from the industry, we know it has been a good move for our company and there has been a positive response from dealers already wanting to come on board. For those dealers who join us in this venture there is a huge opportunity to grow and establish Sundance Spas as one of this country's leading brands.
"It's in the interest of Sundance, Golden Coast and the dealer network itself, that only the most reliable, reputable and aspirational companies should be entrusted with this brand. A premier brand like Sundance warrants dealers who can deliver premier level support."
Hot tub specialist and Golden Coast Director Dominic Adams will also be instrumental in supporting existing dealers and helping attract pedigree retailers to the Sundance Spas network. He believes his company's status in the industry, combined with a comprehensive dealer package that has been launched this year, will see sales for the iconic manufacturer increase in the UK.
"The support and training package provided by Golden Coast for its dealers is possibly the most comprehensive in the industry," declares Dominic.
Established advocates
Longstanding Sundance Spas retailers Paul and Rachel Zeitzen at Deep Blue Pool and Spa are well aware of the benefits of being associated with the iconic manufacturer. Rachel believes that reliability has been a key factor in the long-running association with the brand and the husband and wife team have been strong advocates of the production qualities and manufacturing history that have achieved consistent sales and customer recommendations, during the past 12 years.
"Ever since we first became a Sundance Spas retailer in 2001 we have found that all of the brand's models are very reliable," says Rachel; "We also appreciate the fact that they are also always being enhanced to incorporate the latest technology.
"We are now getting customers coming back to us and wanting brand new versions of their Sundance Spa models that they originally purchased from us years ago. They also provide us with testimonials to illustrate that they are very satisfied with their products and refer our showroom to their friends, while recommending the qualities
of Sundance Spas. This word of mouth advertising is an added bonus to our own sales promotions.
"We've also had examples of people purchasing a Sundance Spa from us after they have divorced and left their previous hot tub with their ex-partner. Also we had one gentleman who was so impressed with the hot tubs in our showroom that he placed three Sundance Spas orders with us!"
"The Optima, in particular, has performed really well for us and has consistently produced sales. We always have one in the showroom as a demonstration model and it is very popular with our customers. We are very satisfied with Sundance Spas and, as always, we are feeling confident for the New year with this brand on board."
HTR spoke to Golden Coast Director Dominic Adams to discover how the Sundance Spas brand is performing in the UK and how its innovative pedigree can help to secure sales.
How many Sundance Spas dealers do you have in the UK?
DA: We currently have nine dealers in the UK and we are now actively seeking more highly motivated spa retailers.
What is the most popular Sundance Spas model?
DA: The Cameo. It's unique combination of style, design, hydrotherapy and filtration make it the most popular selling model of spa sold in the world!
What design features help to secure sales?
DA: I believe the look and build quality of a Sundance Spa model is a significant draw for spa customers. Its unique Microclean filtration and hydrotherapy with Fluidix jet technology are significant USP's that help secure consumer confidence and more sales.
Why should dealers consider becoming Sundance Spas stockists?
DA: Sundance is one of the most established brands of spa in the market today and has an unrivalled pedigree of innovation stretching back over 34 years. It gives the dealer a very unique and compelling story to tell a would-be spa owner when they come in their showroom. Also, the dealer support and training package provided by Golden Coast for its dealers is possibly the most comprehensive in the industry and this does help them to create sales opportunities.
Are there any parts of Britain you would like to target?
DA: yes, there are a few and I'd encourage pedigree spa dealers to call us for details.
Contact details
Golden Coast Ltd
Fishleigh Road
Roundswell Commercial Park
West Barnstaple
Devon EX31 3UA
Tel: +44 (0) 1271 378100
Fax: +44 (0) 1271 371699
Email: swimmer@goldenc.com
Web: www.goldenc.co