Ensuring customer satisfaction with a strong commitment to post-sale service in your local area will provide increased profitability in the future, according to Aqua Hot Tubs Director Sunil Sharma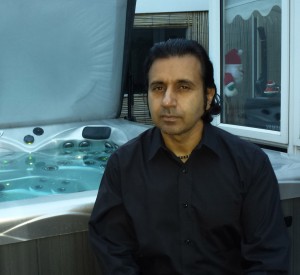 This has been my best year of hot tub trading since I first became a retailer in 2005. We have also done very well with swim spas this year, which has been a complete surprise because, apart from advertising in the WhatSpa? Retail Directory, we have done zero marketing.
From my experience, people are looking for quality hot tubs and swim spas with high specifications. For the last few years our showroom has consistently been generating high levels of hot tub sales around the £8,000 price point. Some people do want to spend more money on the larger hot tubs and we also display models in the £6,000 range, but don't sell many.
There is currently a strong demand for swim spas and that's because there is a growing participation in triathlons and people don't have the space or budget to build a pool in their garden to prepare for these events or gain fitness by swimming.
I believe you can achieve a good level of sales of high value quality hot tubs and swim spa models if you have a professional showroom and strong commitment to customer service.
We usually have around ten or 12 hot tubs on display and even if people come into our showroom with expectations of making a low priced purchase they soon realise the benefits of choosing a high quality option that will last them a long time.
We have built up a lot of confidence and awareness of our business in our area because we have had a strict policy of concentrating completely on attracting customers from a 40 mile radius. That way we know we can offer a very reliable and efficient aftercare service to our customers and be with them quickly if they need our help, either the same day or next day.
I think that there is always going to be difficulties supporting customers if you spread yourself too thinly with a wide catchment area for generating sales.
Targeting sales in our local 40 mile radius has paid off with very good recommendations. Local people talk to one another and when they visit our showroom they come with awareness of our business and high expectations about the products and services that we offer.
People naturally want to shop around, but we always go the extra mile with customer service so we get a lot of very good referrals.
Our policy is to do whatever it takes to resolve problems to keep customers happy. We are available seven days a week, and evenings, to ensure customers are not waiting to get their hot tub or swim spa working again and always make every effort to prevent things from escalating.
We only specialise in hot tubs and swim spas and promote the fact that we provide a complete service. This is important when it comes to retailing because it seems that
is what people want. They don't want hassle involved with purchasing or installing a hot tub and so we help them with every step, from the initial site survey to installation and decking work as well as servicing.
It is all about ensuring customers have confidence to deal with you. Once we have completed a site survey and provided expert guidance people know they can trust us and are ready to pay the deposit for their new hot tub.
I would also recommend a strategy of keeping in touch with customers. We always maintain contact with customers and send out updates and letters to promote offers and discounts and we generally get a good response. This leads to referrals and repeat business, which is vital for long-term retailing success.