Following a hugely successful event at the inaugural Ricoh Arena venue, the SPATEX organising committee have announced that the show will return to Coventry in 2015.
Visitors flooded to the new venue to see the latest offerings of some of the wet leisure industry's biggest suppliers from UK and overseas manufacturers.
Some of the most innovative swimming pool and hot tub companies were celebrating on Sunday night (2nd February) after gaining recognition at the annual wet leisure industry awards hosted by SPATA and BISHTA.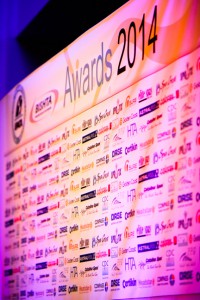 The Swimming Pool and Allied Trades Association (SPATA) and The British and Irish Spa and Hot Tub Association (BISHTA) Awards were held at the Ricoh Arena, Coventry as part of SPATEX, the UK's largest dedicated swimming pool and hot tub exhibition.
The awards event, organised by the British Swimming Pool Federation (BSPF) brings together SPATA and BISHTA to highlight the achievements of the wet leisure industry by showcasing the best examples of construction, design, installation and innovation.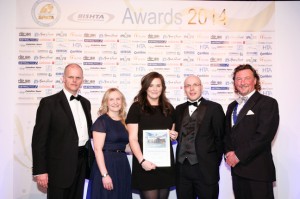 The big winners of the night were John Preston Pool & Spa Services, who picked up 'The Dick Millward Trophy for Pool Contactor of the Year. John Preston Pool & Spa Services, a swimming pool and hot tub contractor from Preston, Lancashire, scooped five gold, five silver and four bronze awards on the night. John Preston Pool & Spa Services were formed in 1997 by John Preston, to supply, design, install and service swimming pools, hot tubs, saunas and other wet leisure facilities, both commercial and residential. Their in-house teams include; specialist building teams, pipework teams, electrical teams, full-time in-house CAD design, in-house fabrications, and most importantly, their customer service team to provide the high level service required by their clients. Building a name that has become synonymous with high quality luxury swimming pool design and installation around the North West.
Chris Hayes, Managing Director of the BSPF said: "We congratulate all the winners of both the SPATA and BISHTA Awards this year.  As we set our standards high, the bar has been raised with the outstanding quality of entries this year, which led to some stiff competition making it a difficult job for the judges in determining who should receive what level of Award!.  It is always pleasing to see the high quality of the entries and this will aid us in showcasing why it is important to work with our members".
Chris Hayes continued "It was also pleasing to see a number of new award recipients, as well as some companies that have won previously.  The publicity generated from the Awards will help to promote our industry to the end user and this is vital to continue to generate business and turn customer dreams into reality".
The SPATA and BISHTA awards are an important platform to showcase the best available hot tubs, spas and swimming pools and raise the profile of the wet leisure industry and all the luxurious and inspirational products it has available to the public.
The 2014 SPATA award winners were:
Residential Outdoor Concrete Pools up to £75,000 sponsored by Astralpool UK
Gold: XL Pools
Silver: Harris Pools & Leisure
Bronze: Cheshire Wellness
Residential Outdoor Concrete pools £75,000 and over sponsored by Pollet Pool Group
Gold: Rio Pool Construction Company
Silver: Portrait Pools & Enclosures
Bronze: XL Pools
Liner Pools up to £45,000 sponsored by Complete Pool Controls
Gold: Deep End Pools
Silver: Deep End Pools
Liner Pools £45,000 and Over sponsored by OASE
Gold: XL Pools
Silver: Spruce Pools
Bronze: Spruce Pools
Residential Indoor Pools up to £100,000
Gold: John Preston Pool & Spa Services
Silver: Rigo Spa
Bronze: John Preston Pool & Spa Services
Residential Indoor Pools over £100,000 sponsored by Golden Coast
Gold: John Preston Pool & Spa Services
Silver: John Preston Pool & Spa Services
Bronze: John Preston Pool & Spa Services
Non-traditional Pool Installations
Gold: XL Pools
Silver: John Preston Pool & Spa Services
Bronze: John Preston Pool & Spa Services
Special Requirements sponsored by Heatstar
Gold: David Hallam
Silver: John Preston Pool & Spa Services
Bronze: David Hallam
Commercial Pools sponsored by Astralpool UK
Gold: Cresta Leisure
Silver: Cheshire Wellness
Bronze: David Hallam
 
Refurbishment sponsored by Pollet Pool Group
Gold: John Preston Pool & Spa Services
Silver: John Preston Pool & Spa Services
Bronze John Preston Pool & Spa Services
Inground Residential Spas and Health Pools
Gold: John Preston Pool & Spa Services
Silver: John Preston Pool & Spa Services
Bronze: Rigo Spa
Inground Commercial Spas and Health Pools
Gold: Cheshire Wellness
Silver: Rigo Spa
Sustainability Award sponsored by Calorex Heat Pumps
Gold: Rockingham Swimming Pools
Silver: Asher Swimpool Centre
Design Award sponsored by Golden Coast
Gold: John Preston Pool & Spa Services
Silver: Portrait Pools & Enclosures
Bronze: Rigo Spa
The Peter Geekie Award for Retail Excellence sponsored by Certikin International
Gold: All Swim
Silver: Home Counties (Horsham)
Bronze: Oyster Pools & Leisure
Paul Kite Award for the Pool Star of the Year sponsored by Nsure
Winner: Naomi Mace (Deep End Pools)
Outstanding Service to the Industry Award
Winner: Patrick Thorpe
 
The Dick Millward Trophy for Pool Contractor of the Year
Winner: John Preston Pool & Spa Services
Indoor Pool of the Year
Winner: John Preston Pool & Spa Services
Outdoor Pool of the Year
Winner: Rio Pools Construction Company
The 2013 BISHTA award winners were:
Residential Above Ground Hot Tub Below £10,000 (inc VAT)
Winner: Riviera Hot Tubs
Runner up: Harris Pools & Leisure
Residential Hot Tub £10,000 and Over
Winner: Riviera Hot Tubs
Runner up: Oyster Pools & Leisure
 
Residential Hot Tubs Inground/In Decking
Winner: Hydropool UK
Runner up: Oyster Pools & Leisure
Residential Hot Tubs in an Overseas Setting
Winner: Hydropool UK
Swimspas / Exercise Pools
Winner: Hydropool UK
Runner up: Welsh Hot Tubs
How My Hot Tub Changed My Life
Winner: Welsh Hot Tubs
Runner up: Hydropool UK
Hot Tub in a Holiday Lodge
Winner: Complete Spas
Runner up: Hydropool UK
Best Showroom and / or Exhibition Display
Winner: All Swim
Runner up: Oyster Pools & Leisure
Best Website
Winner:  All Swim
Runner up: Deep End Pools