Aquavia Spa has evolved in less than a decade to become a rising hot tub force in Europe. HTR investigates how the brand's Spanish factory is now staking a claim in the UK market as part of its flourishing expansion within the continent.
Spanish brand Aquavia Spa has been gaining significant ground in the European market due to its stylish designs that are finding favour with dealers seeking alternative options for their discerning customers wanting a stylish 'Made in Europe' product. This year the company targeted the UK for expansion and made its exhibitor debut during the UK Pool and Spa Expo 2014 in February at the Birmingham NEC; ahead of an appearance at Piscine Global 2014 in Lyon in November, to highlight dealership opportunities and increasing sales volumes in France; as well as Germany, Belgium, Switzerland, Italy and Turkey.
Eight years ago a multi-million euro injection of capital funding was the catalyst to creating a cutting-edge Aquavia Spa production facility in Cervera near Barcelona to compete with established international hot tub manufacturers and flourishing European brands. In recent years the brand has achieved a growing dealer network following appearances at international exhibitions.
Diverse products, with unique features, have been created at the factory to compete with the historic brands that have cornered the global and European markets. Four dedicated ranges include the Exclusive, for owners requiring sophisticated design; Premium, with elegant and fully-equipped models; Aqualife, providing contemporary functionality and value; as well as the Professional range for commercial and public use.
Along with maximum quality, the Aquavia Spa factory is also committed to providing its dealers and their customers with excellent after-sales services and long-term warranties on its high-quality hot tubs to reflect the faith in their reliability, with 15 years on the structure; five years on acrylic surfaces; and two years warranty on components.
Historic location
After you fly into Barcelona's airport you are only a short drive from Cervera, which is the capital of the comarca of Segarra, in the province of Lleida, Catalonia. During its history, stretching back almost 1,000 years, the area occupied by the flourishing Aquavia Spa factory has had mixed economic fortunes.
It is hard to believe as you approach the factory that before three peasant families built the first settlement in 1026 the surrounding area was uninhabited. When the western border was established at Lleida in 1149, Cervera flourished with terraced houses being constructed and the town gradually became established first as a Confraria in 1182 then Consolat in 1202; and from 1267 to the present day as a Paeria.
In 1702 the town was bestowed with the title of 'city' from king Philip V in reward for the support of his politics from its inhabitants during and following the War of the Spanish Succession.
Until 1842 Cervera had been receiving an economic boost from the students lodging in the town while studying at the large university, which had also been created by Philip V following the war that had devastated the area. When the university was relocated to Barcelona the area of Cervera was badly hit by the dramatic loss of student revenue streams, but 18 years later the arrival of a train service and improvements to public services instigated an upturn in the local economy that included an important wine trade.
There was further economic turmoil when the Phylloxera, pale yellow sap sucking insects related to aphids that feed on the roots and leaves of grapevines, devastated the area like it had done neighbouring wine regions. It resulted in many inhabitants involved in wine production going bankrupt as a result of the major crisis for the Cervera wine trade. This trade eventually recovered following the creation of the Sindicat Agricola in 1919.
Nearly a century later the Aquavia Spa factory is now toasting its crop of hot tubs and cutting-edge lean manufacturing production success to help boost prosperity in the area.
"All of our investment in this factory is focussed on providing quality products," declared Aquavia Spa Company Manager Artur Deu; "Even while the Spanish economy has been struggling we have not suffered like many other manufacturing companies.
"Maybe that is because we have dealers who realise we always try to meet their needs and resolve any customer issues."
Direct supply
Five years ago the state-of-the-art Aquavia Spa factory began to supply products directly to hot tub dealers and during the past two years the brand has found its own financial prosperity, after increasing its presence in the European market by establishing dealer network links with over 30 countries.
Unlike many European counterparts, the brand is continuing to grow in Spain and its Cervera factory success with the help of its 40 employees has put it on the wet leisure map with its quality production techniques that have been instrumental in attracting dealers throughout the continent.
This success has resulted in the factory being rewarded with increasing sales volumes in France, Germany, Belgium, Switzerland, Italy and Turkey. Now Aquavia Spa has its sights set on a slice of the British market following a successful promotion to prospective dealers at the UK Pool and Spa Expo.
"Every year we are improving on our status and opening new markets," revealed Aquavia Spa Sales Area Manager Sonia Guix Llovet.
"We have total control over all of our dedicated hot tub products that are all produced at this factory. Because we have so many neighbouring countries it is very easy for us to introduce our products to the European market. Now we are looking to increase our presence in the UK."
Barcelona connection
Despite the Spanish economy being ravaged by the recession and struggling to support the hot tub and wet leisure market, Aquavia Spa has been continuing to flourish with increased production at its factory to meet thriving European demand.
As a regular at the Piscina event in Barcelona, the exhibition team has been promoting the close proximity to the 'local' hot tub factory facility and the modern production procedures that are in place to tap into the latest manufacturing technology resources. An aptly named Barcelona model has also been on display at the international wet leisure exhibition to help highlight the factory's current portfolio of products and opportunities for dealers.
The Barcelona model made its debut at Piscina 2011 and comes in at 230 x 230 x 90cm and has been produced at the factory with modern lines as part of its sophisticated design, which provides capacity for four people as well as incorporating two loungers. A full massage circuit has been incorporated by the factory's design team, along with 28 jets and ten air nozzles.
"Barcelona attracts many tourists throughout the year and a lot of people come to Spain on holiday and we are looking to build on this relationship with the message that they can have a part of our country in their own garden or home in the UK," explained Artur.
Debut model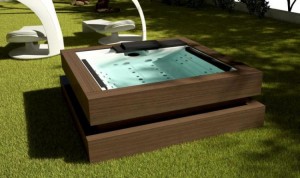 A stunning Spa Cube model, pictured, which made its UK exhibition debut at the NEC in Birmingham during the UK Pool and Spa Expo in February, is also part of the Aquavia Spa factory's Exclusive Range. Coming in at 231 x 231 x 78cm, the 2014 WhatSpa? Best Buy Award-winning four-seater Spa Cube, in the WhatSpa? Best Buy over £12,000 price category, was launched three years ago during Piscina 2011 and attracted a constant stream of trade visitors to the Aquavia Spa stand, which promoted its flourishing European factory production status again in Lyon at Piscine Global 2015.
Along with the Barcelona and Quantum, which comes in at 194 x 197 x 78cm and makes up the trio of options in the Exclusive range, the Spa Cube has been developed by the factory to include the decorative feature of the Colour Sense and Pure Line Lighting systems. They are also promoted with the branding for Microban Antibacterial Surface, SilentPump, Energy Saving Cover, EcoSpa, Relax Impact System, Ultraviolet Treatment, Aromatherapy and Bluetooth Surround Audio.
The Aquavia Spa factory compliments the Exclusive range by also producing models for the PremiumRange, and AquaLifeRange, as well as the dedicated ProfessionalRange.
Five models are currently being promoted in the PremiumRange stable and these include the six-seater Futura 40 that was also on display on the Aquavia Spa stand at the NEC this year. It comes in at 216 x 198 x 90cm, with a full compliment of the factory's production features, and has 44 hydrotherapy jets within the design that includes a lounger seat and capacity to accommodate five other people.
Other models in the Professional range include the Aqua8, Advance 50, Easy Access, and Amazon. Like the Futura 40 and their Exclusive range counterparts, they have been stylishly designed with ergonomic shapes to ensure the maximum comfort for owners who can utilise the massage jets.
Designers at the factory have created the Amazon to combine hydrotherapy and swimming. Coming in at 500 x 230 x 138, the Amazon has an 8,500 litre capacity and a 9,677kg filled weight.
A hydromassage area has been created to provide one lounger and two seats, while the swimming area has five turbojets and has been crafted to be accessed from the two lateral sides to allow it to be promoted by dealers as a perfect model for home installation.
According to Artur Deu, the factory's attention to detail and customer requirements is a key philosophy of the factory's design team ahead of putting new models and enhancements into the production process.
"Every individual Aquavia Spa model is designed and developed thoroughly by our specialist team before we put it into full production," divulged Artur.
"At the start of the design concept we do a lot of 3D work and drawings. We want to ensure everything runs smoothly, and taken into consideration feedback from our dealers and their customers, when we are preparing to introduce a new model and it is not just a very quick or rushed process."
Aqualife value
The factory's Aqualife range has been designed to provide a combination of unbeatable value-for-money, with the best quality materials and lowest possible maintenance costs. It currently has six models in this range, which includes the Aqualife 7, Aqualife 6, Aqualife 5, and Aqualife 3; which all have Bluetooth audio capability; along with the Sundown; and the Calypso.
With five seating positions to accommodate four people alongside an additional person in the lounger seat, the Aqualife 7 is the largest and most powerful option among its stablemates and comes in at 216 x 216 x 90. It has a filled weight of 1,486kg and has been equipped with two massage pumps and 54 jets.
In the deceptively designed Aqualife 6, which comes in at 216 x 198 x 90cm and has 23 hydromassage jets, there are five seats equipped with various massage capabilities and a lounger seat. For easy access through doors of a standard home, meanwhile, the Aqualife 5 has been designed to come in at 198 x 195 x 74cm. It has 28 jets and can accommodate two people in the twin lounger seater, which have been installed with a variety of hydromassage features, alongside an additional three people.
A compact Aqualife 3 has 21 jets and comes in at 216 x 148 x 90 with seating capacity for three people, including a lounger seat. There is also the option to reduce this model's impact on garden spas by purchasing it without the cabinet as part of an inground design.
To meet the demands of the space-conscious market, the Calypso in the Aqualife range is a two-seater model that can be fitted into corners. It comes in at 200 x 166 x 70cm and includes a lounger seat and 22 hydromassage jets with seven air nozzles. For dealers requiring a round option in their showroom, the Sundown has been designed with 205cm x 90cm dimensions and can accommodate five people.
Professional options
A Professional range currently has amassed an array of options with shell finishes in acrylic colours, stainless steel and glass mosaic tiling. Models include the Elegant, Kish, Hawai, Hydra, Martinique Oasis 40, Oslo, Bali, Izaro, Capri-Rodas, Antigua, plus the Barcelona inground.
The Hawai and the Hydra spas are the largest options produced by the factory in the commercial spas range and provide capacity for 11 and ten people respectively within their octagonal shaped designs. A mosaic finish is incorporated into the Hawai, while the Hydra has an acrylic finish and both designs have been launched to target discerning commercial facilities.
Dedicated commercial features are also provided by the seven-seater Izaro, which is the factory's most fully-equipped and luxurious spa in the Professional range. It provides users with the ability to benefit from the chromotherapy techniques provided by the LED projector.
Filtration systems are sold separately for the Professional models, which include options such as an automatic chlorine dosing dispenser and an ozonator. Additional options include an insulated cover and a projector for chromotherapy sessions.
Evolution policy
Even though it has such an impressive portfolio of models within the four dedicated ranges, the Aquavia Spa factory has pledged to never rest on its design laurels and has a policy of consistent evolution.
"We are proud to say our factory is committed to launching new models into the market," said Sonia.
"We want to be different to our competitors and we want to be able to provide our dealers with new designs and models for their customers."
There is also a strong commitment at the factory for efficient distribution times to ensure dealerships gain a constant flow of hot tub models to their showrooms throughout Europe.
"One of the many advantages of this factory is that we can deliver hot tubs in short times," revealed Artur, "Our spas can be completed in three weeks and our mentality is to ensure very good delivery procedures for our dealers. The only models that would take more time to construct would be the tiled options."
Water technology
As part of the factory's commitment to water care technology, all of the hot tubs in the Premium and Select portfolios have been constructed with a built-in Ultraviolet Treatment disinfection system.
Artur highlighted that as many other manufacturers have now recognised, the use of ultraviolet light to treat hot tub and swim spa water has many advantages that Aquavia Spa is providing for its growing customer base. One of the main benefits that the factory is promoting is the fact that it does not alter the composition or the properties of the water, as occurs with chemical-based treatments, nor does it leave waste behind.
Another water care feature provided by the factory is the efficient Clean Water ozone system, as a silent way of maintaining safe spa water, which continually injects millions of minute bubbles of high-concentration ozone in a mixing chamber to neutralise typical bacteria that would form in hot tub water if not treated correctly.
All Aquavia Spas have the Silent Pump option to provide customers with a standalone, low-consumption and extremely silent filtration pump. The models in the Premium range, meanwhile, are factory-fitted with the High Performance Watercare. This is promoted by the factory as being an extremely efficient pressure pump to ensure owners can enjoy crystal clear water.
Friendly features
Aquavia Spa's design team is also committed to incorporating user-friendly features and control technology in the factory's production process.
The cabinet of the Woodermax system, for example, is utilised by the factory due to the fact that it has no screws and this provides a unique aspect for dealers to promote to their customers. In addition, the innovative fastening system allows owners or service engineers to gain access into the hot tub with just a simple click. Meanwhile, the finish of the Design Line cabinet has an alternative appearance to other hot tub counterparts in that the white edges around the spa provide it with a touch of distinction.
Balboa control systems are incorporated into the factory's designs to provide user-friendly reliability for temperature control, filtration cycles and hydromassage. Plus, the models in the Premium and Exclusive ranges are provided with the option of including a panel that is compatible with WiFi technology to allow owners to control their spa settings with their tablet and mobile devices such as iPhone or Android.
Conservation commitment
The factory is strongly committed to environmentally policies as part of its manufacturing process and the management team and staff are always aiming to incorporate ways of reusing, recycling and conserving resources. As part of the production process, the manufacturing team incorporate ABS bases, metal structures and synthetic coatings, to avoid using natural wood.
Every model on the factory's production line is also equipped with Venturi Controls. These are installed to enable the intensity of massages to be increased without increasing the power used to run the pumps, which provides owners and the environment with the benefit of lower energy consumption. The Silent Pump used for filtration re-circulates the spa water at a low rate of consumption of 0.25kWh.
To eliminate heat loss and maintain spa water at an even temperature, all of the Aquavia models have an insulation system constructed from various layers of high density polyurethane foam.
With the use of the tried-and-tested EcoSpa option, owners can also ensure their hot tub gains over 60 per cent energy savings and ensure their particular model continues to operate at extreme temperatures of up to -25 degrees celcius. The Aquavia Energy Saving Cover, meanwhile, is constructed with double insulation and included with the complete range of portable models to eliminate water evaporation and temperature losses.
Along with all of the waste materials being recycled, the factory has integrated systems in place to enable the company to reuse and recycle the water that is used to test hot tubs during the production process.
FSC-certified paper is also used, and promoted, to print the Aquavia Spa catalogues that have the 'Made in Europe' logo proudly displayed throughout the publications with the proclamation: 'We design, manufacture and market all of our spas. They are all made in Europe'.
"Our factory is completely dedicated to spa production," declared Artur; "We are proud to promote our 'Made in Europe' logo and we are currently providing a lot of choice for our dealers.
"We are learning all of the time and the mentality of our company is to focus on quality at all times and making sure our dealers are happy with our products and services. Maybe other companies don't always meet their dealer's needs but we try to make every effort to do so."
UK advocate
Dave Joyce of East Midlands Spas and Pools is one of the first dealers to adopt the brand in the UK and has quickly become an advocate of the Aquavia Spa's stylish designs and the factory's cutting-edge technology.
"The Aquavia Spa factory in Cervera is truly awesome and the products that are produced there are very stylish and modern, with a European design influence on them," said Dave. "That was one of the main things that attracted me to this brand and the fact that I can gain delivery of products within days.
"One of the great things about this factory is that it produces models that are unique. They also have many European refinements that clearly may not be for everyone's taste but you will always have different preferences like you do with cars."
Another aspect of the factory's production process that Dave was attracted to was the commitment to constantly improving designs and increasing the options for dealers.
"Everything is geared up at the factory to achieve success in this market and the people who are employed by Aquavia Spa are lovely people to work with," enthused Dave; "They are constantly looking to make refinements to their models and extend their range.
"Recently they have made refinements to their Spa Cube model and from my experience working with the factory they are always committed to making improvements like this. The factory's range is evolving all of the time."
Dave also highlighted that the cutting-edge technology in the Aquavia Spa factory had resulted in major benefits for himself, his customers, and other dealers looking to eliminate problems of hot tub leaks.
"One of the main faults that dealers have to cope with is problems with leaks with some hot tubs but I've not got this worry with Aquavia Spa," revealed Dave; "That's because the automated machine technology in the factory ensures that all the holes are precision cut for the jets and plumbing."
According to Dave, another benefit of the factory being based in Spain is the ability for engineers to quickly travel to the UK to provide their expertise to resolve technical issues for dealers and their customers.
"Due to the factory's proximity to this country, I've gained from the extra peace of mind benefits that Aquavia Spa provide," said Dave; "On the couple of occasions when I've had an issue to resolve with the Aquavia Spa products they've sent over an engineer from the factory to help me out.
"This is a really important aspect of my relationship with Aquavia Spa. I don't want to be spending all of my time sorting out technical issues when I have the demands of running my showroom."
HTR spoke to Aquavia Spa Company Manager Artur Deu to discover how the factory is helping to increase the company's share in the European market and attract UK dealers.
How did the Aquavia Spa brand originate?
AD: In the past we used to be a distributor for other brands but there was too much competition. So we took the decision to produce our own hot tub models and then created the Aquavia Spa range in our modern factory to distribute directly to dealers.
How much money have you invested in your factory facility?
AD: Eight years ago we invested six million euros into the factory. That is a big investment but we know we will recover this outlay. Financially we are very strong. Even with the economy being badly hit in Spain we have not suffered, because of the level of success we have achieved in other countries.
What is the advantage of being based near Barcelona?
AD: The city of Barcelona is known throughout the world for its culture and we are now also promoting its design creativity heritage by proudly marketing our products with the BCN Design logo and Made in Europe logo. Many people throughout Europe visit Spain for holidays, while Barcelona and our country is especially a major destination for UK residents. So we are looking to build on this relationship between our two countries to help our brand awareness grow.
What makes the Aquavia Spa products different?
AD: We believe we have created a wide range of unique product options that have a stylish and modern appeal. Eight years ago we may have been following other companies but now we are leading by example with the production of our own different designs and unique models. We believe we are setting new standards in hot tub production with a European flavour.
How many dealers do you have in the UK?
AD: We currently have two dealers and our target this year is to have nine UK dealers, so we need to obtain six or seven more.
What are the benefits for your dealers?
AD: We are based near our dealers in Europe and can deliver products to them very quickly. We have invested a lot of money in our factory during the past three years and a large percentage of that investment has been involved in the purchasing of new modern machinery to ensure all of the holes in our spas are automatically cut. This has helped us to avoid 100 per cent of problems with leaks. Not many hot tub factories use this machinery, so our dealers and their customers are gaining modern production qualities and we have created special labels to illustrate all of the options within our spas.
What dealer support is on offer?
AD: As well as having our engineers being able to travel to the UK to support dealers with any technical issues we are also investing heavily in marketing material, including our brochures, as well as many new showroom options for our dealers who will be able to promote our Official Partner logo. We promise them that when we have a customer who has a problem we will always sort it out. We are also investing in our online capabilities to ensure a strong web presence and involvement with Facebook and Twitter for example.
How are you attracting new dealers?
AD: We realise we are in a competitive market but there is a lot of versatility provided by our factory and the Aquavia Spa brand. We can provide our new dealers with products that will provide them with something different in their showroom, as well as the tiled glass mosaic spa options. We attended the UK Pool and Spa Expo in Birmingham as an exhibitor to illustrate these benefits to the UK trade and potential new dealers. We want to highlight that we can offer dealers a wide range of quality models and designs that are all manufactured in Europe.
Are there any new products in the pipeline?
AD: We are a young factory operation and our product range has been growing fairly quickly and is constantly evolving. So our dealers can expect that there will always be changes and refinements or new additions being designed, because our aim is to provide them with all of their spa model requirements. That is why we've also specialised in producing our tiled spa options for those dealers in countries were these spas designs are popular.
What advice would you give to dealers?
AD: My main advice to dealers would be not to focus on discounted prices or low quality products. If you are just selling cheap spas then you have to do a lot more work to be profitable. What you should be doing is looking for quality products that you can defend the margin on without heavily discounting them. Then you will sustain your profitability, rather than struggling on small amounts from many cheap sales.
Any other advice?
AD: I would also tell dealers that they should look for a supplier that will listen to them, be very helpful, and act on their requests. If one of our dealers or customers asks us for improvements we will take it in consideration and try to introduce it quickly to our production.
Are you optimistic about the future?
AD: Yes, I'm feeling positive. We are in an industry that is very attached to the weather, though, so you never know what is going to happen. In the long term future for our company we have a global vision and we have been putting everything in place to capitalise on strong demand for our products.
Contact details
Aquavia Spa
Av. Pla d'Urgell, 2-8
25200 Cervera
Spain
Tel: +34 973 533 795
Email: aquaviaspa@aquaviaspa.com
Web: www.aquaviaspa.com