Villeroy & Boch has been rewarded for its innovative hot tub technology by being recognised as one of this year's iF Design Awards 2015 winners for the Just Silence model.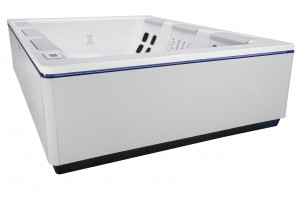 An international jury of more than 50 experts was responsible for selecting the winners, and they highlighted that the Just Silence, pictured, excels through a minimalist design with a cubistic form.
The Excellence in Product Design award recognition, announced during the iF Design Awards ceremony in Munich attended by 2,000 guests, follows positive reaction for the Just Silence model across Europe during three major exhibitions including the UK Pool & Spa Expo at the Birmingham NEC this year following on from Interbad, in Germany, and Piscine Global, in France.
Like the trade and consumer visitors to the Villeroy & Boch exhibitions stands at the three wet leisure showcases, experts on the iF Design jury panel praised the new seating capability arrangements in the 'Just Silence' design; which has provided a boost for retailers who have been launching the model in their showrooms this spring.
The judges stated that the Just Silence: "Features a clear and minimalist cubist design, both inside and out. The colour scheme and integrated LED lighting emphasises the modern look and makes it perfect for setting an architectural accent.
"The innovative seating concept ensures sufficient legroom and comfort when reclining for all users. With its interchangeable back massage units, the patented JetPak technology permits customised hydrotherapy."
Villeroy & Boch Global PR Manager Bath and Wellness Katrin May reported that the iconic brand was delighted to receive the prestigious recognition at this year's ceremony, following three successful European exhibitions to promote the launch of the Just Silence model, and an international seal of approval from respected experts.
"Since 1953, iF has focused on independent design competitions of integrity," said Katrin.
"The internationally renowned iF seal of approval stands for excellent design and superior design services."
The innovative seating concept of the Just Silence hot tub places five people across from one another in a staggered formation without sacrificing legroom. The external dimensions of 213 x 224 cm also allow for a recumbent concept by providing space for five people to lie down.
Minimalist colours round off the Just Silence design concept: The outer covering is bright and modern in Light Grey. When combined with the inner colour Snow, the Just Silence has a light design.
In addition, numerous individual massage functions are available thanks to the patented JetPak II technology, which is a key marketing concept for the brand.
During the UK Pool & Spa Expo Villeroy & Boch Wellness at Home Manager Dirk Peters also promoted a new touchscreen display that has been introduced to the Just Silence model to allow users to individually select massage functions with the JetPaks II technology.
"There has been a lot of development and design work involved in the Just Silence production process but we have been overwhelmed by the very high levels of praise for our innovative designs," reported Dirk.
"The Just Silence model is like my baby and it has been very rewarding to show it off during the three European shows we have attended."