Manufacturing giant Master Spas has made an enhanced production pledge to provide extra stock for Master Spas UK dealers after recruiting Martyn Winstone as part of a national expansion in the British wet leisure market.
The USA manufacturer has just launched a new H2X Challenger Pro swim spa and is increasing output this year to support Martyn in his new role as National Sales Manager for Master Spas UK, which is part of the successful Blackpool-based national dealer specialist The Hot Tub Superstore Group that was featured in the ITV 'Hot Tub Britain' documentary and achieved unprecedented demand for hot tubs last year.
With Martyn utilising his experience to recruit dealers and develop the Master Spas UK network, The Hot Tub Superstore Sales Manager Ross Phillipson believes they have the perfect formula to spearhead further growth for the Master Spas brand from new regional showroom dealership locations.
"Master Spas have backed us all the way so far and are committed to supporting our Master Spas UK network with the promise to significantly increase production levels so that we can meet future demand," reported Ross.
"By ensuring that we are going to get more products we will then always be in a strong position of retaining and supplying high levels of stock for our dealers and customers.
"When the 'Hot Tub Britain' documentary aired on TV we hit new levels of sales, but 2020 was unbelievable and far exceeded our previous best. The past year has been difficult for us all, but more people have been purchasing hot tubs to cope with the pandemic and so we've been working extremely hard to meet the demand from our customers.
"Thankfully, we have a fantastic relationship with Master Spas. It works really well for both parties and we're feeling very positive about the future with this global-leading manufacturing brand of swim spas and hot tubs supplying the Master Spas UK national network of dealers.
"With Martyn on board, we're now planning for further expansion to meet the higher demand we're expecting in the years to come. That's why we're developing our Master Spas UK dealer recruitment to ensure that we can be in the best possible position to deliver the very highest levels of customer service on a local regional level as well as a greater national one.
"In the hot tub and swim spa market 'quality is king' and with Master Spas as our trusted supplier we have a global leader of swim spas and hot tubs manufacturing with the very best top quality products for us to supply to British consumers, as well as holiday parks."
Before joining Master Spas UK, Martyn played a key role as Jacuzzi UK National Sales Manager in highlighting the benefits of dedicated HSG282 compliant hot tubs to the British holiday market sector and has been instrumental in assisting businesses promoted by Hoseasons and locations run by Darwin Escapes to ramp up their hot tub holiday accommodation strategies and gain the benefit of extra revenue streams.
Multi-brand dealership 1 Stop Spas has joined the Master Spas UK network and hot on the agenda for Martyn is a recruitment drive for additional specialist retailers to supply and promote the WhatSpa? Best Buy Award-winning hot tubs and WhatSwimSpa? Best Buy Award-winning swim spa designs, endorsed by Olympic swimming legend Michael Phelps, as well as the fledgling WhatSpa? Holiday Park Best Buy Award-winning HSG282 compliant Getaway Lodge range.
"We're now in the process of recruiting established professional dealers who want to supply top quality products from a world-leading manufacturer," reported Martyn; "I'm excited by this new challenge and believe that this is a great opportunity for Master Spas to continue further expansion in the British market.
"I'm passionate about customer service and I feel being part of this family company like Master Spas encompasses my own beliefs in getting the best for my customers in product and service.
"I know from my experience in the holiday park market that hot tubs can provide all-year-round revenue streams and I'm feeling confident that we will have the quality products and enhanced capability to meet increasing demand by developing a network of Master Spas UK dealers."
The WhatSpa? Best Buy Award-winning six-seater Master Spas Michael Phelps MP8, which comes in at 239 x 239 x 97cm and incorporates lounger seating and Master Blaster foot jets within its design, has been proclaimed as 'the best of the bunch' of a new unique range of advanced hydrotherapy hot tubs with the endorsement of an Olympic legend who has helped propel Master Spas to the top of the international swim spa league while promoting his signature range of swim spa designs from the manufacturer.
This includes the WhatSwimSpa? Best Buy Award-winning Dual-chamber Master Spas Michael Phelps MP Momentum, which comes in at 5.87 x 2.39 x 1.52m and incorporates the unique Wave XP propeller-driven counter current system that provides a turbulent-free, hyper-realistic and incrementally adjustable swim current.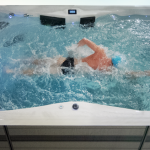 Master Spas has now taken its H2X Challenger Series of swim spas, which was first introduced in 2018 as the 'first truly variable-speed jetted swim spa', to the 'next level' with the launch of its new H2X Challenger Pro swim spa, pictured, that features three swim pumps and six airless jets for maximum performance.
Available only in an 18 foot model, the swim area is generously sized for even the tallest swimmer. The new swim spa, though, has the same Master Spas hydrotherapy features that are ideal for recovery and relaxation, including the stand-up Xtreme Therapy Cove. Users can adjust the flow of water through the jets to get a personalised massage for enhanced recovery.
According to Master Spas Vice President of Sales and Marketing Kevin Richards, the new Challenger Pro model has been designed to provide a faster swimming experience capability and will now change the way that athletes are able to train from their home locations.
"After working with our professional athletes, we felt there was a real opportunity to take our Challenger Series to the next level," divulged Kevin; "The new swim spa allows for an even smoother and faster swim experience."